Histological Index Scoring – AI Computer Vision
AI/CV Medical Images Analysis System for the recognition and assessment of the histological activity index for Ulcerative Colitis (UC).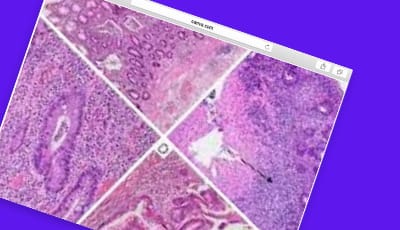 Aim of the Project
● AI/CV system for histological index and elements scoring.
● Web client for visualization needs.
● WebService & API for integration
Results Achieved
● The average system quality (accuracy) assessment is 85.12%.
● The average system results reliability rate is 85.16%.
Main Technologies
● The AI system is based on deep artificial neural networks (ANN or NN), convolutional NN (CNN), recurrent NN (RNN), faster-RCNN, etc.
● For ML/AI: Python / Keras / Scikit Learn / DeepLab / ResNet / TensorFlow / OpenCV.
● For API & web-service: Python, JavaScript, Angular, Docker, Google Cloud Platform.
To ensure the quality of the results, we requested the advice of three medical experts and scientists, who have extensive experience in the project area. They assessed the results of the project at all stages of implementation.
Medical Experts vs AI/CV System
| | | |
| --- | --- | --- |
| Case | Medical Experts | AI/** System |
| The average accuracy of assessment | ~75% | 85.12% |
| Experts assessment correlation | 60 - 70% | 77.19% |
| Results reliability rate | ~70% | 85.16% |
| Time *** index analysis per image | ~240 sec. | ~3 sec. |
| Time for features analysis *** image | >90 min. | ~5 sec. |
What the AI/CV System Can Do
● carry out an evaluation of the activity index using AI algorithms.
● detect & process different histological entities using CV/AI deep recognition and classification methods:
○ histological elements: vessels, crypts, epithelium, inflammatory infiltrate, debris, etc.
○ cells: neutrophils, eosinophils, plasmacyte, lymphocyte, etc.
○ histological processes & characteristics of the disease: localization of neutrophils and other inflammatory cells, necrosis, inflammation, etc.
● analyze data with an embedded quality control CV-subsystem, based on specially developed Quality Metric and Confusion Matrices.
● detect & process new data to adapt and update the system to ensure better quality.
● check if data is not suitable for analysis (for example, if the images contain information, which is unknown to IA).
Main Sources of Benefits
● significant savings on the salary of medical experts and medical coordinators who carried out the evaluation of the index before the implementation of the system.
● significant time savings between receiving data and achieving results.
● reduced overheads to ensure the results acquisition process (virtual data storage, communication, secure email services, etc.).
● the opportunity for our client to carry out several medical projects in parallel without using additional resources.
Therefore, our client is now able to perform tasks much faster, cheaper, and better than his potential competitors. This project was the first step in the AI transformation of our customer's business. The system gives our customer truly significant advantages and the amortization period of the project is less than one year.
Do you want to have the same experience?
Talk with one of our experts today to learn how we can help you scale your development efforts or create a custom application.