Nuvonet is our solution to make city life more integrated and comfortable.
Thanks to this web portal, local information, services, and shops become accessible to everyone by simply using a PC, smartphone, or tablet.
It looks really great, thank you!I am very impressed by your team's achievement during the time we work together!
Results Achieved
Compliance with client's architecture standards
Short time to market thanks to the Agile Kanban methodology
User experience optimized by our professional team
The design of the application emphasizes multi-device use, scalability, performance, and ease of use
Technology
ASP.NET
MVC 3
MS SQL
Entity Framework
JavaScript
CSS
What our customer asked
The client had a rapidly expanding system that required significant development efforts. So they were looking for an experienced team to take care of the project.
The team had to work independently, following Fifthplay architecture standards, and report to technical and commercial staff.
What services we offered
We offered Fifthplay three developers and a quality control engineer who worked remotely in our development center.
In addition, a user-experience designer took care of the portal interface and improved the usability of this application.
The team had considerable work experience in user-oriented projects, paying particular attention to device compatibility, performance, and ease of use.
The co-operation between the APRO team and Fifthplay was based on Kanban methodology as used, for example, in Toyota plants.
How does Nuvonet work?
Nuvonet contains information about shops and service providers and allows you to order goods or services directly from the website.
Any dealer can purchase Fifthplay Gateway and connect this device to a printer. Orders from the Nuvonet portal will be received by the Gateway and printed directly at their location.
In the case of service providers such as dentists or restaurants, Nuvonet users can also book a visit. All necessary information will be printed, sent via SMS, and added to the Nuvonet Calendar.
Design principles
The application was designed to meet the needs of a wide variety of users with many different types of devices.
Our main task was to create the public version of the portal, together with the design of the user experience and usability optimization.
We developed the portal to be used on all browsers and tablets (including iPads and Android-based devices) and we also developed a mobile version.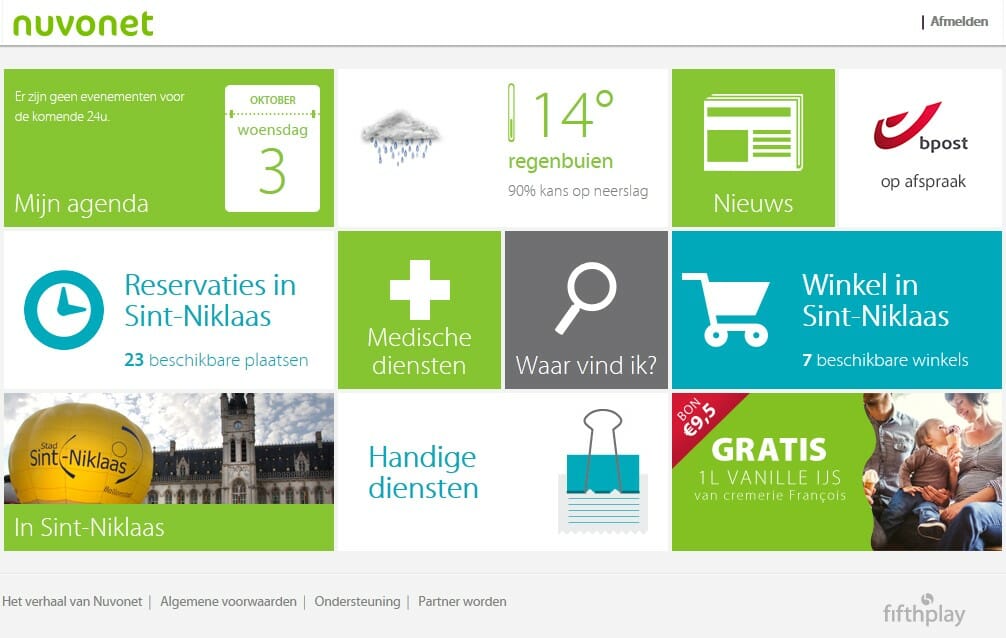 Features
The portal allows users to:
consult custom-tailored news reports and weather information
search for services of merchants, associations and service providers
order products and services directly from merchants (baker, supermarket, etc.)
consult various information about their city
subscribe to city events
monitor in-house energy consumption
carry out a GPS search for the closest stores, restaurants, or other points of interest
Conclusion
We offered Fifthplay three developers and one QA engineer, who work remotely in our development centre.
There is also a user experience designer who creates all the portal designs and improves application usability.
The team has considerable experience of work in user-oriented projects, paying close attention to device compatibility, performance and comfortable usability.