Interview with Joeri Vlemmings  – iXpole
The video interview with Joeri Vlemmings, CTO of software product start-up iXpole. 
iXpole makes software tool for managing VIP guests at sport events.
We want to share the experience of various people around running start-ups, especially in IT.
Who is Joeri?
CTO and co-founder of iXpole

Enjoys boxing and occasionally beer with cheese

Proud father of 3 kids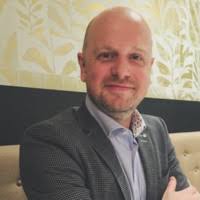 Transcript 
Joeri. What do you do in the company? What is your position?
I am responsible for the product. I am the CTO, the Chief Technical Officer. And together with Luke we think about the roadmap and all those kinds of stuff. But technically, I'm the guy responsible for the solution.
And what does your company do, what is the story of your company?
So with iXpole we have created a SAS-solution for a VIP-management for sponsorship and hospitality sales. It's a very niche product. We created the product while we were in the R.S.C. Anderlecht as B-consultants, we were all week and we started the company, we were in Anderlecht as the SAP-consultants and then we were asked the question, can you help us search for a platform where we can do sponsorship that is sales and where we can manage our VIPs et cetera.
And well, we went out on the market and had a look and searched around to see if we could find anything. But there wasn't anything readily available for professional sports clubs who manage their V.I.P.s and to manage their sponsoring deals.
So that's when we decided that maybe this would be an opportunity to start this business. And we sat around the table with Anderlecht, which is the biggest football club in Belgium. And we came to an agreement that we would develop it for them.
Obviously, when you are in this position that you can work with the biggest club in Belgium, it's a great advantage, of course. That's how we started.
Do you have any specific features in the product that excite you and that you are proud of?
Specific features….well… I'm proud of a lot of stuff, actually. We've done some nice features together with a lot of nice integrations like the mailing engine.
The ticketdesigner , which we have created and also VIP Online portal, it's really nice. I cannot say there is one specific feature I'm the proudest of. There are a couple.
Basically you are proud of the whole product, right?
Yes, yes I am! And I love working on it every day. Well, I'm proud of what we have already achieved. And what the product can do. There are a lot of features and a lot of stuff you can configure or can do with it. So I'm proud of the whole thing.
And who is your typical client?
So like I mentioned earlier, we are niche, we are a very niche market, so our customers are professional sports teams which have a substantial amount of VIP hospitality revenue.
So like in Belgium, you have the first class of football: you have football and then maybe a little bit of volleyball or basketball. But that's rather small. So that's the one part: the big professional sports teams and then the others. And we also started last year with event arenas and event organizers like the O2 Arena. That would be a nice customer. They have a couple of hundreds of concerts a year. And they also have VIP and they also have a sponsoring or they also have business customers. So those are the two types of customers we look for.
You`ve mentioned Anderlecht. And I'm pretty sure that you have some more. You have already been talking about some well-known names. So maybe you could mention some others.
Yes, sure. So in Belgium obviously we have the most customers. Then in the Netherlands, we have Ajax Amsterdam. And it`s the event arena you know, Johan Cruyff Arena, it`s the arena they play in but it's a different organization.
There were very big concerts. And so Ajax and we were talking with … Well, it's not finalized yet. So I cannot tell the name. But it's one of the big clubs in the world.
So do you have anything like this that you need to knock on the door?
Yes. We need to knock on wood. But I think for now Ajax is one of the most well-known names. They played in Champions League semi-finals last year.
Even I know Ajax! (laughing) OK. And can you tell me a little bit about your future plans? How do you see it?
Well, future plans are we want to expand. Of course, we want to expand even more in Holland and we would like to get feet on the ground in the UK. Obviously, since there are a lot of top teams and top budgets there, a lot of spectators and a lot of VIPs in the UK.
So that will be one of the nearest future goals. And in the end, well, maybe a little bit further, we want to expand in our event business to do more event arenas since we're already working with the biggest one in Belgium, which is part of Live Nation. Live Nation is a global event leader.
I don`t know a lot of event arenas all over the world. So we want to expand and grow in that area as well. And with regards to development, we're planning to get started on a new version while the improved version. So that's also something we are doing. If we can achieve all those things, then I'm a happy man.
All right. And a personal question: how do you relax, Joeri?
A couple of months ago I started boxing. Well, it relaxes me. I feel that it helps me to stay relaxed and stay maybe more healthy. So that's one thing. And then obviously with the family and I love cooking as well.