CBA Software – Outsourcing
We have helped to develop the key product of ShareDoc by creating an Internet-based document management solution for document sharing between companies, customers and business partners.
I must say that at all times I have always been served with high professionalism by APRO team workers – any time and over any problem that we resolved.
Results Achieved
Convenient publishing, reliable archiving
24/7 access to the latest versions of documents
No document modifications lost, as a result of logging features
Safety and security through access management features
Technologies
.NET (C#)
Microsoft Silverlight
Microsoft Outlook COM Add-in
Solution
ShareDoc is an Internet-based document management solution, with the option of MS Outlook Add-in, which is focused on document sharing for corporate use.
The main purpose of the solution is the sharing of documents between companies, their customers and their partners.
By archiving and publishing documents in ShareDoc, all the involved parties will always have access to the latest versions of relevant documents – 24 hours a day.
Companies, their partners and customers have the opportunity to publish, view and edit documents, provided they have been given the necessary access rights.
All the actions carried out in the system are logged, to provide a complete record of which party has uploaded, edited or read the document.
ShareDoc uses widely accepted standards for encryption, data storage and user interfaces.
This ensures easy but secure access to the system, and unlimited possibilities for integrating ShareDoc in third-party systems.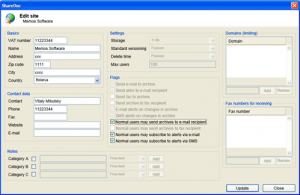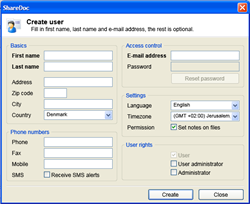 During our partnership with CBA Software, we have improved the current Internet version of the product, and developed an MS Outlook Add-in.